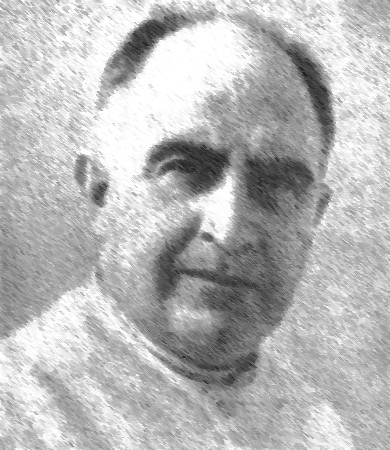 Eustáquio van Lieshout
(1890-1943)
Beatificazione:
- 15 giugno 2006
- Papa Benedetto XVI
Sacerdote, della Congregazione dei Sacri Cuori di Gesù e Maria, padre dei poveri, infermiere dei malati, pastore di anime e modello di parroco
"Per me il lavoro, per il prossimo l'utilità, per i Sacri Cuori l'onore e la gloria"
Humberto van Lieshout was born in Aarle-Rixtel, Holland, on 3 November 1890. He was the eighth of 11 children born into a deeply Catholic farming family. He was baptized on the day of his birth.
His life can be divided into two periods, the time he spent in his own Country (1890-1924) and his time as a missionary in Brazil (1925-1943).
Humberto was popular both at home and at school for his sociable, cheerful nature. He already felt called to the priesthood as a child. Despite the contrary opinion of his teacher, who did not see Holy Orders as right for him, and of his father, who wanted him to work on the farm and did not consider him capable of secondary studies, Humberto managed to get his way and attended the secondary school in Gemert.
After reading the biography of Fr Damien de Veuster, Humberto decided to join the Congregation of the Sacred Hearts of Jesus and Mary. He entered the novitiate in Tremeloo, Belgium, on 23 December 1913 and was given the name "Eustáquio". He made his temporary vows in 1915 and his perpetual profession three years later.
The young man was ordained a priest on 10 August 1919. His first assignment was as assistant novice master for his order.
Fr Humberto continued to exercise his ministry in his native Country for five years, serving in parishes at Roelofarendsveen and at Maasluis near Rotterdam, where many Belgian immigrants had fled from the German invasion. His pastoral zeal in caring for the people earned him a decoration from the Belgium State.
In December 1924, Fr Eustáquio was sent to Spain to learn the language, with the plan that he would be going to Uruguay as a missionary; instead, he was sent to Portuguese-speaking Brazil and sailed from Amsterdam in 1925 with the Provincial and two other missionaries, including Gil van de Boogaard, who became a close friend. In all, he spent 10 years in Agua Suja in Romaria, six in Poá and two in Belo Horizonte.
In 1926 Fr Eustáquio became parish priest of Agua Suja and counsellor of his Congregation, and he devoted himself in particular to the poor and the sick.
In 1935 he was appointed parish priest in Poá, in the area of Sao Paulo, and again zealously dedicated himself to caring for families, the sick and the poor. He was known to have the gift of healing through the intercession of St Joseph, and this activity was especially directed towards the strengthening of the faith of the people and freeing them from the tendency toward superstition.
The reputation of Fr Eustáquio began to spread throughout the Country and people travelled long distances to see him. The "disturbance" this caused provoked the interference of civil Authorities, and it left Fr Eustáquio's superiors feeling that he should be transferred.
In 1942 he was sent to the Parish of Ibiá and almost immediately to Belo Horizonte. Because he was already venerated as a holy man and a healer, he continued to be sought out by thousands of people and his life became a real pilgrimage.
Juscelino Kubitscheck, Prefect of Belo Horizonte, considered himself healed by a miracle through the intercession of Fr Eustáquio and donated a plot of land to the parish on which the Church of the Sacred Hearts was built. At the celebration for the laying of the foundation stone, Fr Eustáquio was heard to say: "I began the church but I will not finish it". "Thanks be to God!'
In 1943, during a retreat that he was preaching to students of the Sacred Hearts of Jesus College at Belo Horizonte from 18 to 21 August, Fr Eustáquio seemed very tired. The day after the retreat he had a high temperature and stayed in his room.
His condition worsened in the following days, but he was still prepared to celebrate Mass as usual. Immediately after Mass on 23 August, he retired to the sacristy, sat down on a bench and fainted. Doctors were slow to diagnose him as having typhus.
Fr Eustáquio knew his illness was incurable. He received the Sacrament of the Sick and renewed his profession. He asked for his friend, Fr Gil, and was heard to say: "Thanks be to God, I am ready! But how long Fr Gil is taking!".
Fr Gil finally arrived on 30 August. Fr Eustáquio exclaimed, seeing him in the doorway, "Fr Gil, thanks be to God!" and died instantly.